We are proud to be sponsoring the 2016 Community Ownership Awards.
If you have a community-run business in your region that you feel goes above and beyond to support the community then please nominate them here: communityownershipawards.com. Nominations close on Friday 14 October at 5pm. The winners will be announced at a special awards ceremony in London on Monday 28 November.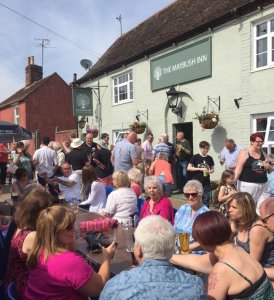 The Community Ownership Awards are run by the Plunkett Foundation, a national charity that helps communities to set up and run community co-operatives. To date, 343 community shops and 43 pubs have been saved as community co-ops, with an increasing number of other businesses also choosing the model, from cafes and local hubs to farms and broadband projects.
Co-operative & Community Finance has worked closely with the Plunkett Foundation for many years. Investment Manager Ian Rothwell said: "We were one of the partners in the Village Core programme that was responsible for the start up of hundreds of community-owned shops and more recently we have been working with Plunkett in the More Than A Pub programme. We are delighted to sponsor this awards scheme that celebrates community ownership."
The picture shows the Maybush in Great Oakley in Essex on the day it re-opened under community ownership earlier this year. We provided a loan to supplement the impressive £83,000 raised by the community share issue.