Co-operative & Community Finance is helping the enterprising community in the Rame Peninsular of south east Cornwall with the next stage of the rebuilding of a derelict former pub. Work is about to start on the building and equipping of a commercial kitchen at the back of the large site. The aim is for the ground floor to be fitted out in time for Easter 2020.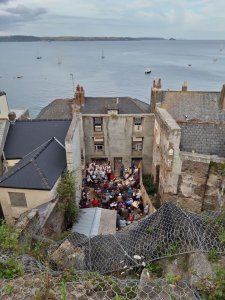 In August 2018 the people of the picturesque village of Cawsand celebrated the bringing of a local eyesore into community ownership. The site of The Old Ship, which had burnt down in 2013, had been bought by a community benefit society with over 300 members, mostly local people. They had received advice and support from The Peninsular Trust, which has been responsible for a number of ambitious local ventures, and from the More Than A Pub programme. Co-operative & Community Finance arranged loan finance for the purchase. [Read more about the purchase in 2018 here.]
The community benefit society plans to make maximum use of the large site. The original bar area of The Old Ship will be recreated on the ground floor, where there will also be a café, children's area, village information and heritage centre. On the upper floors there will be four flats to provide secure long-term accommodation at affordable rents to local people.
The society has been very busy over the last 18 months with applying for planning permission, with fund raising and with making the site safe for temporary use. Over the last two summers 'pop-up' events were run on the site. These included music, poetry, exhibitions and discussions, all serviced by a basic café. The photograph above shows one of the live music events in September 2019. The activities made a small surplus, but their primary aim was to get The Old Ship used and known. There is strong local support for re-opening The Old Ship and it is expected to be very busy during the tourist season.
Ian Rothwell, Investment Manager at Co-operative & Community Finance, said: "We are delighted to support the next stage in the development of this inspiring community venture. We are looking forward to seeing The Old Ship re-launch in 2020."