Further support for co-operative pubs
The growth in the number of communities buying their pubs is continuing and accelerating. We are very pleased that the More Than A Pub programme has been extended until March 2019. This programme, which provides a package of business support, loans and grants, has made a big difference to community groups in England trying to establish community-owned pubs. Read below for stories of two different communities that have bought their pubs this year.
Although we've been busy supporting co-operative pubs recently, we also lend to all types of co-operative and community businesses, both new and established. If you need accessible, ethical finance to make your enterprising goals a reality, we may be able to help. Apply online here.
Another village pub saved by community ownership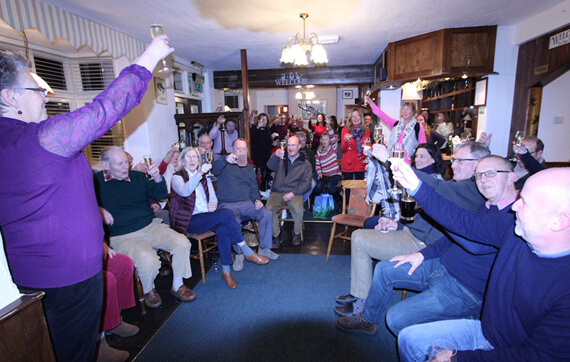 The residents of the small village of Winterbourne Bassett in Wiltshire are celebrating a new acquisition – their local pub, which has been bought by a community benefit society set up just five months ago. Many of the 'new owners' gathered in the pub last weekend to toast their success and start the refurbishment. One of their first decisions was …


Going, going, gone! Sold to the community.
The New Year started well for the people of Cookshill and Caverswall, neighbouring villages on the outskirts of Stoke on Trent. On 5 January their long fight to save their pub from demolition came to an end when the Auctioneers Arms was bought by Caverswall Community Society. Some 130 local people had bought shares in the society, which together with …


Save the Date
Tuesday 26 June 2018 is the date of our Annual General Meetings (we hold several on the same day). It is a good opportunity to meet other co-operators and catch up in person with our work. The event will be in Sheffield. More details to follow in the next mailing.