Leaseholders of Glenkerry House have secured funds for a series of works required to maintain iconic 'brutalist' building in East London.
A Grade II listed building, Glenkerry House situated in Poplar within the London Borough of Tower Hamlets was designed by celebrated modernist architect Ernő Goldfinger (the inspiration for the name of a villain in Ian Fleming's James Bond books) with the purpose of providing access to co-operative housing schemes to communities in the Greater London area. Completed in 1977, Glenkerry House was established as a Community Leasehold Housing Co-operative by the Greater London Secondary Housing Association and by 1980 was handed over to an elected Management Committee of residents.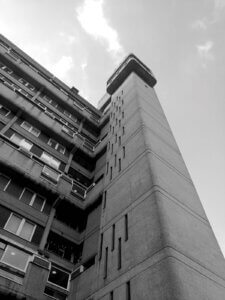 Fast forward to 2022 and residents, alongside Lamberts Chartered Surveyors, have outlined a series of property improvements based on an assessment of the communal maintenance needs of the building. Works, consisting of the external redecoration of the thirteen-storey block, together with sundry repairs to timber, concrete, and subsidiary roofs, commenced in July 2022 following delays to the plans due to pandemic restrictions.
Obtaining loans from Co-operative & Community Finance and Co-op Loan Fund (managed by CCF) to contribute to the financing of the property improvements has meant payment to contractors can be secured.
Membership of Glenkerry Co-operative Housing Association is automatically given to property leaseholders with an understanding and commitment to co-operative values and ownership being part of the application criteria.
In a joint statement Matt Beannie, Secretary and Kieran Crilly, Treasurer of Glenkerry Co-operative Housing Association said: "The value of these loans to the Association has been the commencement of much needed and welcomed improvements to our home, that ensures the continued sustainability of our unique housing model, and the revitalisation of an iconic piece of Brutalist architecture."
Kevin Lloyd-Evans, Lending and Relationship Manager at Co-operative & Community Finance said: "We are delighted to be able to support Glenkerry Housing Co-operative. Housing Co-operatives offer an excellent opportunity to meet the affordable housing need in the UK. However, the sector is massively under resourced. Helping Co-operatives prove the model works is vitality important. London's lack of affordable housing is well known. Our finance amount tends to be small however catalytic in nature."
Find out more about Glenkerry Co-operative Housing Association by visiting their website.