Supportive loan finance to help people take control of their economic lives and create social benefit.
We exclusively serve the co-operative and social enterprise sector.
Over the last 40 years we've supported hundreds of businesses, from small community-led enterprises to large award-winning organisations. All of our funds are democratically owned and controlled by our members. We lend to those that practice the principles of co-operation, social ownership and sustainable development. Our rates are competitive and we don't require personal guarantees.
more about borrowing from us >>
Recent lending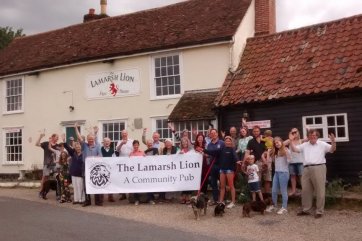 An historic village inn that is reputed to have been frequented by two of the most famous English landscape painters has been saved by the local community. The Lamarsh Lion, near Bures in Suffolk, has been bought by a community benefit society of 320 members. There are now over 50 co-operative pubs in England and […]
A 400-year-old village inn that had been closed since September 2016 has become the seventh co-operative pub in a cluster of community ownership in the counties of Essex and Suffolk. On 29 June 2017 The Kings Head at Pebmarsh near Halstead was bought by a community benefit society of 320 members. There are now over […]
A rare example of an ungentrified local in the affluent Royal Borough of Windsor has become the 50th co-operative pub in the UK. On 26 June 2017, the Craufurd Arms in Maidenhead, a pub known for its good beer, darts teams, and sports TV, was bought by a community benefit society of 226 members. The […]
News & Views
The Co-op Foundation has appointed Co-operative & Community Finance as its advisory partner in the development of a new programme of grants and social investments, which will support community-run enterprises in disadvantaged areas of the UK. An initial pilot will focus on four areas of community life: community centres, housing, transport and green spaces. A […]
On Friday 30 June come along to our presentation of our three campaign focuses this year, and be a part of our AGM at Co-operatives Congress 2017!
Just two weeks after winning the Citi Microentrepreneurship Award for Effective Partnership in recognition of its work with the Just Growth Fund, Co-operative & Community Finance has released another loan under this innovative programme for community-based food and farming projects. Sacred Earth, a community land project that is reclaiming and nurturing a 40-acre site of […]