Supportive loan finance to help people take control of their economic lives and create social benefit.
We exclusively serve the co-operative and social enterprise sector.
Over the last 40 years we've supported hundreds of businesses, from small community-led enterprises to large award-winning organisations. All of our funds are democratically owned and controlled by our members. We lend to those that practice the principles of co-operation, social ownership and sustainable development. Our rates are competitive and we don't require personal guarantees.
more about borrowing from us >>
Recent lending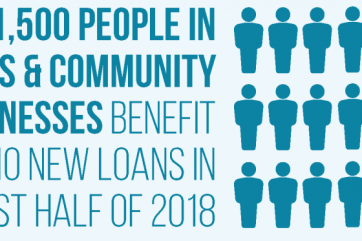 Lending has been steady in the first half of this year with strong lending to community pubs and creative/ media and publishing businesses. Our 2018 Half Year Review reports that we released 10 loans totalling £367,000 from the funds we manage in the first six months of this year, directly benefiting an estimated 1,500 people […]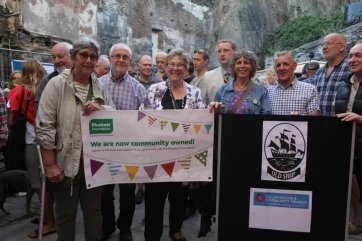 The people of a picturesque but deprived village in Cornwall are preparing to rebuild and reopen a derelict pub that burnt down five years ago. The site of The Old Ship in Cawsand has been bought by a community benefit society with a little help from Co-operative & Community Finance, Plunkett Foundation, and the More […]
A 40-year old radical bookshop co-operative named after the Russian Revolution is now the legal owner of a former bank building which it plans to turn into a community hub. On 6 August October Books in Southampton completed the purchase of 189 Portswood Road which for many years had been a branch of NatWest Bank. […]
News & Views
As we reported in A Review of 2017, the More Than A Pub programme, funded by the government and Power to Change, has helped many communities take ownership and control of their local pubs. At the end of September there were 69 co‑operative pubs open for business in England and Wales and a further 236 […]
Radical publishers Stir To Action have recently launched their New Economy programme, a year of workshops, residentials, mentoring, and live crowdfunding events. The programme will be delivered in Bristol, Oxford, and London from October 2018 to July 2019. Co-operative & Community Finance is one of the sponsors and its members and borrowers are being offered […]
Jon Nott has been appointed to be chair of the ICOF Group and ICOF Community Capital. Jon takes over from Jo White who stepped down at the AGMs held on 26 June after seven years as chair. Jon was elected to the board in 2017 which makes him a relative newcomer but he has a […]