Just one month after collecting the keys of the Cross Keys, the people of Redgrave in rural Suffolk are opening the doors of their community-owned pub for just a few hours on 23 December for pre-Christmas drinks.
"It is meant to be a low-key event – an informal chance to celebrate and say thank you." said Fiona Kenworthy, one of the directors of Redgrave Community Society which now owns the Cross Keys. "However, many local people have decided they want to make it a very special event. They're going to bring along plates of food, Christmas decorations, including a fully decked six-foot Christmas tree, lights and all! Everybody wants to show their appreciation and bring something! What do you do? Well, we've decided we must just ride the wave of this wonderful community enthusiasm and look forward to all the opportunities our new community pub can offer in the days ahead. In the meantime, I think we're in for a night to remember!"
Redgrave, near Diss, is a picturesque village of some 260 houses, many of which, including the Cross Keys, are listed buildings. The pub looks out onto the village green which is dominated by an ancient oak tree and a duck pond.

For number of years the Cross Keys had been suffering from neglect so when the owners announced their intention to sell the pub in April 2017 local people acted quickly. They held a public meeting, conducted a survey to determine what people wanted from their pub, set up a community benefit society and started a colourful campaign to raise funds using the catchphrase 'Don't Lose The Keys'.
The group received specialist advice and finance from the More Than A Pub programme, which was set up in 2016 to support community ownership of pubs in England. This two-year programme is funded by the Department for Communities and Local Government and Power to Change, and is delivered by the Plunkett Foundation. Co-operative & Community Finance arranges loan finance for groups that have successfully attracted local investment, usually in the form of community shares.
The community share issue for Redgrave Community Society, which allowed people to invest as little as £50, raised over £210,000 from 230 investors. With the grant from More Than A Pub, the loan from Co-operative & Community Finance, and donations, this was enough to proceed with the purchase of the pub which was completed on 24 November 2017.
The pub requires redecoration and refurbishment before it can open properly. The first priority is bringing the accommodation on the first floor up to standard for a live-in manager and/or chef.
Ten years ago, Redgrave became one of the first villages to have a community-owned local shop. This has been very successful, and many local people work as volunteers in the shop. There are plans build an extension to the Cross Keys so that the shop can be relocated to larger premises.
Fiona Kenworthy is convinced that the Cross Keys will flourish under community ownership: "We know what people want from their pub, – a warm welcome and honest good food" she said. "At the start of the campaign we did a community survey and this fired up the village. There were so many good ideas. We have been delighted with all the support we have received from local people and further afield."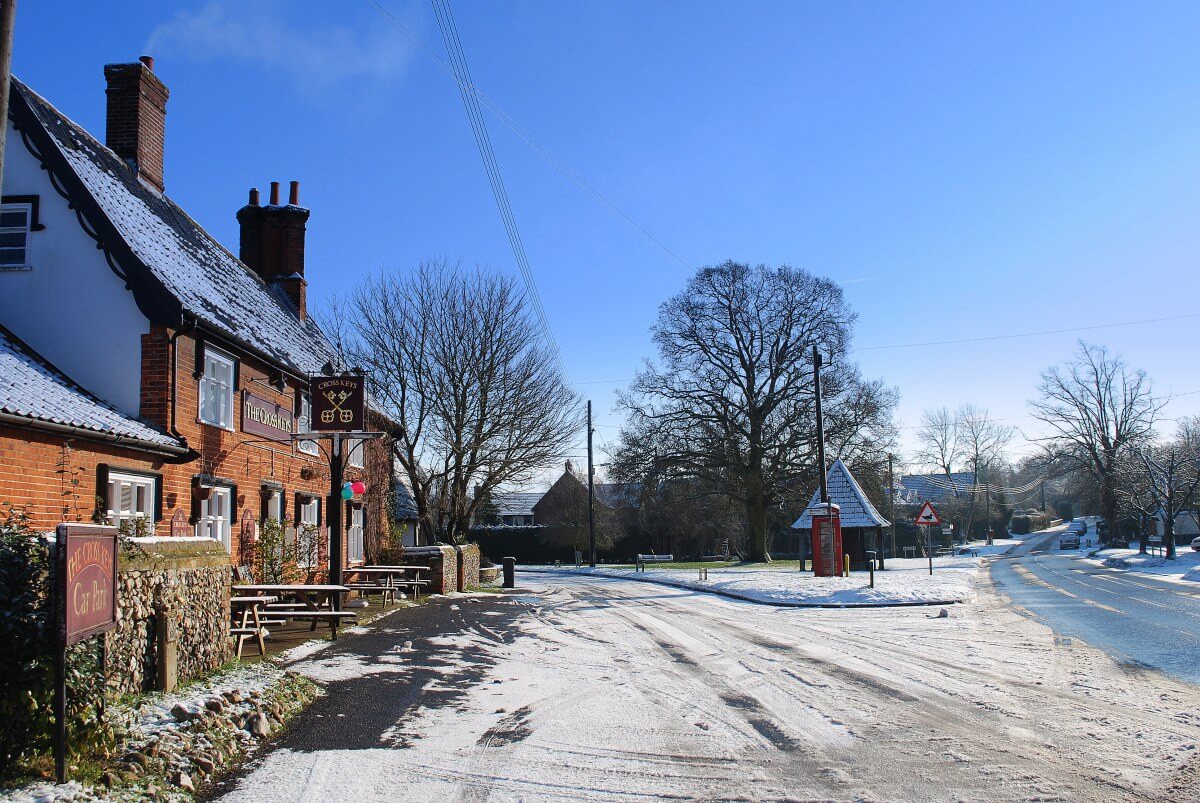 [photos courtesy of Andrew Dickson]