A team of happy volunteers in an Oxfordshire village have started preliminary renovation work on their local pub which is now owned by the local community and saved from redevelopment.
South Moreton, near Didcot, has not had a shop nor a village hall for several years so when the only pub in the village was bought by a property developer in 2015 local people were worried that they might lose one of the few places they could meet, socialise and relax. A group of residents applied to have The Crown listed as an Asset of Community Value (ACV). The owners challenged the listing and the case went to appeal before the ACV status was confirmed. The residents then started a process of community consultation and fundraising. They set up a community benefit society and launched a community share issue.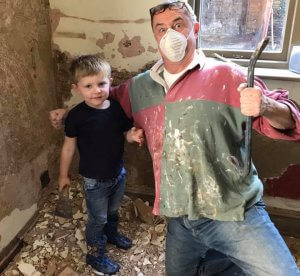 They received specialist advice and finance from the More Than A Pub programme, which was set up in 2016 to support community ownership of pubs in England. This programme is funded by the Ministry of Housing, Communities and Local Government and Power to Change, and is delivered by the Plunkett Foundation. Co-operative & Community Finance arranges loan finance for groups that have successfully attracted local investment, usually in the form of community shares.
The community share issue for South Moreton Community Benefit Society raised £332,350 from 128 investors. With a grant and loans, this was enough to proceed with the purchase of the pub which was completed on 27 September 2018.
Having been closed and neglected for nearly three years, the pub requires redecoration and refurbishment before it can reopen properly. The accommodation on the first floor needs to be brought up to standard for a live-in tenant/manager and part of the loan from Co-operative & Community Finance will be used to do this.
Committee Member Andrew Searle said "The renovation has started. We are advertising for a tenant and we hope to be open for business early in 2019. In the first phase we will be running a café as well as a pub because this was identified as a local need in our community consultation. Later, in phase two, we are planning to open a shop and to offer other useful facilities."
The successful purchase of The Crown is another example of how community-ownership seems to spread in clusters. Residents from South Moreton visited the Abingdon Arms in Beckley to get inspiration and advice. There are 18 shops and 4 pubs in Oxfordshire that are community owned.